Some of our achievements...
*Best Cat & Kitten - Bengal Breed Congress 2004
(Canada - BC)
*Best Brown Marbled Tabby Bengal of the Year
(TICA - World) 2004
*Best Bengal Alter of the Year 2003 (TICA - World)
*Best Cat In Show - Canada (Alberta) 2003
*Best Kitten In Show - Canada (BC) 2003
*Best Kitten In Show - Canada (Alberta) 2003
*Tica Outstanding Dam 2003
*Best Cat - Spotted Cat Congress 2001 - USA (Oregon)
*Best Cat in Show - Canada
(Alberta) 2001
*Best Cat In Show - U.S.A.
( Alaska) 2000
*Best Cat In Show (TICA & FIFE)- Europe
(Switzerland) 2000
*Best Cat - Shorthair Cat Congress 1999 - USA (California)
*Best Bengal Kitten of the Year 1999 (TICA - World)


1995 to 2004:
*Shown over a dozen bengal cats to SGC
(Supreme Grand Champion Level)
*Multiple Regional Winners
*Multiple International Winners

About Us & Our Cats...
Since 1995, we have
shown/produced many
Supreme Grand Champions
& Regional Winners
including Top 20
International World
Bengal Standing kittens,
cats & alters in T.I.C.A.,
The International Cat Association
Bengal Kittens For Sale
Our goal is to produce outstanding
quality bengal kittens with ideal
temperaments. We offer beautiful
and guaranteed pets to approved
homes. Our kittens are well socialized
and friendly with bright personalities
that are easy to fall in love with!

Bengals Make Great Housepets!
Intelligent, playful, confident, alert, &
loving.... these are the words used to
describe the nature of the bengal cat.
This breed is known to like the water,
some have jumped in the bath or shower
with their human! Other bengal
traits include enjoying a game
of "fetch", or "keepers" (some
are pen kleptomaniacs) and if you enjoy
"kitty speak", you will like the bengal,
because many are talkative.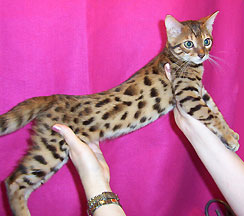 Spotted Bengals
One of the coat
patterns bengals
can have, is the
"brown spotted" pattern
as shown above.
Bengals also can be a
"brown marble", and
there are a few "snow"
colours & patterns also.

Kitten in above photo:
Animatrax Viper
son of: RW SGC Animatrax Mako
& Animatrax Vixen
Viper is an example of
one of our
show quality kittens.
As an adult,
Viper received
Best
Allbreed Cat Awards,
along with being
judged the Best Bengal
at a Bengal Cat Congress