Animatrax Bengal Cattery & Jack Russell Terriers
Laurie Ann Bone (Rhodes) & David Rhodes
Laurie & David are owned by many small four-legged individuals. Breeding Jack Russells since 1989 and Bengals since 1995, this particular breed of cat & dog are highly social and intelligent. Our progeny co-habitate well with other pets. (More about us on our: About Us Page)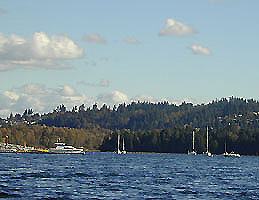 OUR LOCATION
Located in the beautiful province of British Columba, on the pacific westcoast of Canada; our location is in scenic Port Moody on the Burrard Inlet. We live on a waterfront property.

We are only 19 miles from Vancouver. (45 minutes from the Vancouver International Airport, 45 minutes from the United States Border Crossing, and 2 1/2 hours from Seattle, Washington, USA).

Home/Cattery
We have what is considered a "combination cattery". Kittens are raised in a nursery, breeding cats live in specially constructed accommodations, active show cats live separately from kittens & breeding cats, and some cats live "underfoot".

After much research, we designed a system we thought combined the best of ideas for active showing, breeding, and raising/nurturing of cats and kittens, with keeping their health and welfare in the forefront.

Maintaining a healthy multiple cat environment is imperative to us, along with proper socialization. Our cats and kittens are friendly, happy, and well socialized - the adoptive parents of our kittens are appreciative of this.